House order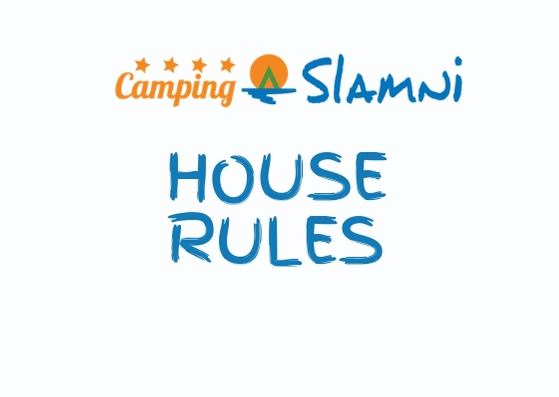 ---
Dear guests,
we are looking forward to welcome You and we wish You a pleasant stay at our camp.
To avoid misunderstanding please observe our
RULES AND REGULATIONS
1. CHECK–IN
Entering to camp is allowed from 07:00 till 23:00.
When arrive in the camp, it is Your obligation to check in at the camping reception (with valid personal document).
All the services that You will use during Your stay have to be reported. Every change of those services must be reported on reception desk or otherwise they will be calculated in the price.
When registering You will receive a magnetic card for the entrance and the exit ramp.
The card is intended for entering and exiting the camping and it can be used for one car only - Your own. You are kindly requested to take care about the card, do not loose or damage it, in case of loss or damage we will be obligated to charge You for a new magnetic card.
Unregistered persons are not allowed to go into the camp. Visitors are allowed to come only if reception staff approve it.
2. PAYMENT & CHECK–OUT
Payment on a day before departure is possible from 07:00 till 21:00 and for the departures on the same day from 07:00 till 13:00.
PITCHES
Arrival: from 14 o'clock/ Departure: until 13 o'clock
Late arrival: the reserved pitch will be held for the guest until 13 AM the following day, and the guest will be charged from the reservation date.
Earlier departure: the guest is obliged to pay the whole reserved period. (In case of later arrival or earlier departure than booked, the guest will be charged with the fee for uninhabited pitch.)
Later departure: for stay on the pitch after 13 o'clock on the departure date an additional day is charged.
The pitch need to be vacated till 13:00, and for longer stay one more day will be calculated.
Please leave the pitch clean before departure.
3. MOBILE HOMES AND GLAMPING TENTS
Check in in mobile home/glamping tent is from 14:00h and check out is till 10:00h. Please take care of inventory in Mobile homes/Glamping tents. Every damage will be charged.
Early departure: the guest is required to pay the amount for the entire booking period.


Later departure: Check out in mobile homes/glamping tents is unti 10:00 am, and any further stays will be charged as another day.


4. USAGE OF CAMPING AREAS
Areas for camping are arranged with camping reception staff. Selected areas cannot be fenced. Concreting, masonry or setting kitchen cabinets and showers outside the tent or caravan is strictly forbidden.
Reservations are made on reception desk and it is not allowed to reserve pitches with any kind of object (strips, desks, cars...)
We kindly ask You to park Your cars on parking lot in order to unimpeded traffic to other vehicles and delivery vehicles. Camp management reserve the right to intervene and move the vehicles.
5. USAGE OF DEVICES AND EQUIPMENT
Campers can use electric and communal devices and equipment. You have the obligation to use the devices and the equipment in a proper way with the purpose to meet the needs for which they are intended.
It is not allowed to use the electric devices (stowes, refrigerators, air conditioners and similar) that are not standardized for use in camping.
Washing of dishes and laundry is permitted only in areas provided for that.
Washbasins, troughs, showers and toilets have to be used in a proper way with the purpose for which they are intended, considering that these are a shared bathroom facilities for use of all guests.
It is not allowed to wash cars, boats, change motor-oils and similar in the camping.
Connecting and disconnecting the installation of electricity supply (switchboard) is done only by authorized personnel.
6. PERSONAL BELONGINGS AND RESPONSIBILITY FOR INJURIES
All of Your value belongings (jewelry, money) can be stored on reception desk with surcharge.
Camp management does not take any responsibility for the missing or damaged belongings of the guests or for possible accidents or injuries that are result of guests negligence.
7. ENVIRONMENTAL PROTECTION IN THE CAMP
For solid waste guests have the obligation to use bins for the waste that are on their disposal in the camp. It is not allowed to leave or throw the solid waste outside the appropriate containers.
Guests are required to maintain order and cleanliness of the place where they camp.
Guests are required to take care of the plants and greenery in the camp.
It is not allowed to break the branches or to damage (nailing) and cut out the trees.
8. PUBLIC ORDER IN THE CAMPING
Guests have the obligation to respect the public order in the camping.
Night time peace is from 23:00 until 07:00. During this time the campers are not allowed to go on to pitches or to leave the pitches because of departure.
Guests who arrive after 23:00 will be placed on the parking area, after they check in on the reception.
It is not allowed to use the radio or TV, to make noise or do anything that would disturb others in the camp.
9. FIRE PROTECTION
Camp is equipped with the fire-extinguishing appliances and devices that are in case of need used by all guests and teams for fire extinguishing organized by the camp management.
It is strongly forbidden to set an open fire or to light fireplaces, except on the standardized gas or electric barbeques. In cases where there is an objective threat to the outbreak of fire it is forbidden to light an open fire.
It is not allowed to take flammable substances, explosive devices and similar in the camp.
In case of fire in the camp or in its proximity, it is all guests obligation to cooperate in organized fire extinguishing.
10. DOG OWNERS
Dogs need to be on a leash on the entire area of camp and also within their unit.
They are not allowed to go on the beach or in the water. There is a small corner with running water where You can shower Your dog (never in sanitary facilities or on the beach).
Owners are obligated to clean up after their pets.
11. OTHER RULES
Various damages, installation and equipment irregularity, and any non respectation of these Rules have to be reported to the camping reception staff by any guest.
Complaints regarding operation of the camp guest can enroll in the complaints book that is located at reception desk.
12. CONSEQUENCES OF THE DISRESPECT OF THE RULES OF ORDER IN THE CAMP
Guest is required to comply with all regulations of these Rules of order in the camp.
The camp management will cancel the accommodation to all guest who disregard prohibitions regulated by these Rules.
In case of the accommodation cancellation the guest has the obligation to pay a compensation for the caused damage.
For any further information please contact the reception desk.
Thank You for attention and wish You a pleasant stay at our camp.
CAMP MANAGEMENT